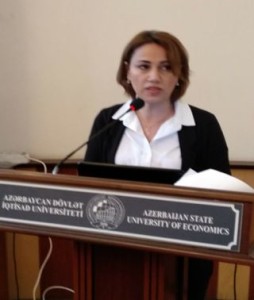 Abdalova Matanat Ali
She was born on April 15, 1974, lives in Sumgayit.
In 1991 she entered the evening department of Azerbaijan Industrial Institute. Specialty: "Environmental protection and rational utilization of natural resources". In 1997 she graduated from the university with a red diploma.
During her higher education, she worked as an instructor at Azerbaijan Industrial Institute   (1991-1994), as an instructor in the Personnel Training Department at the Azerbaijan Pipe-Rolling plant (1994-1998).
Since 1998 works at the Department of Regional Development and Problems of Use of Natural Resources at the Institute of Economy of ANAS. She has worked as a junior scientific worker until 2001, a scientific worker until 2004, a X-level scientific worker   until 2008, and a XII-grade scientific worker until 2017.
She   is a leading   scientific worker since 2017. She is also editor of Russian page of economics.com.az site of the Institute of Economics. During her labor activity, M.Abdalova's 25 scientific articles and theses were published. She has participated in various international and national scientific-practical conferences.
One of the articles was published in the form of   collective monograph, and three in Russia and the Ukraine. She is currently working on her  own monograph. By the decision of the Higher Attestation Commission under the President of the Republic of Azerbaijan dated October 18, 2017, M.Abdalova was awarded the PhD degree in economics. The topic of the dissertation is "Innovative orientation development and structure of the industry in Sumgait city").
She is a lecturer   of the Russian School of Economics since September 2018.
She is married and has two children.