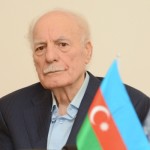 Huseynov Telman Alihuseyn was born on December 28 1934 in Guychay village of AR Jabrayil region.
In 1959 he graduated from Azerbaijan State University and began his activity in the plant "Baku worker". He was appointed a senior economist at the Scientific Research Oil Machine building Institute of the Republic of Azerbaijan in the end of the year (December 5).
In 1962- 1965 he was a post graduate student of the Institute of Economy of the ANAS and conducted classes at the INE of Azerbaijan.
He defended the Candidate's Paper in 1967 and Doctor's Thesis in 1988.
Huseynov had been the Head of the Chair of ASUE for already 25 years.
He is the author of more than 160 scientific- methodological works, as well as 12 monographs, tutorials and textbooks.
T.Huseynov is an honorary economist and teacher of the Republic of Azerbaijan.