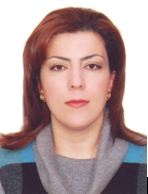 Can.in.Phil. Assisstant Professor :  Qadimaliyeva Aynur Famil
aynur_gadimaliyeva@unec.edu.az
She was born on July 8, 1978  in Hamzali village of Qubadli region.
In 1995-2001 she studied at the philological faculty of Baku State University.
In 2002-2005 she studied at the post-graduate course at Nasimi Linguistics Institute of ANAS and defended her dissertation in 2007. She is the candidate of Philology.
In 1999, she began her career as a teacher at the lyceum with Arabic bias number 14 in Sumgayit.
Since 2005 she has been working as a teacher at the department   of "Azerbaijani language" at   Azerbaijan State University of Economics.