>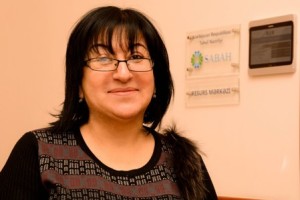 Head of the "SABAH" Center Cand. of Econ., Assoc.Prof. Aida Aydin Guliyeva
e-mail:  a.guliyeva@unec.edu.az
In 1996 she defended her Candidate's Dissertation and received her PhD in economy.
In 2001 she studied in MBA courses at Georgia State University in Atlanta, Georgia, USA.     
In 2005, she attended the 'post-doctoral research' program at Oxford University in Oxford, Great Britain.
In 2009, she gave lectures on the topic 'Azerbaijan Economy – challenges and perspectives' at Szent Istvan University (Gödolle city) and The Institute of World Economy (Budapest) with the initiative of the Azerbaijan Embassy to Hungary.
Currently she is the Associated Professor of the 'Information economy and technologies' Chair.
She is the head of 'Sabah' centre of Azerbaijan State Economic University since 2014.
HE was awarded the "PROSPERITY" medal by the Decree of the President of the Republic of Azerbaijan on September, 2011.
She has been awarded with the Honorary Award of Azerbaijan Republic Ministry of Education for the achievements gained in the field of training and educating of the young generation in October of 2015.
UNEC Teachers' Pedagogical Potential were highly rated at the Poznan University of Economics and Business (12.05.2017)
UNEC exchanges Experience with Foreign Universities (13.02.2017)
UNEC Scholars join the International Conference  (20.05.2016)