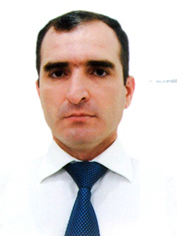 Can.of. Econ., Asisst. Prof. Akhmadov Bagish  Sabir
He was born on  September 19, 1972 in Garazanjir village of Jalilabad region.
In 1994 he graduated from the Azerbaijan State Economic Institute (now Azerbaijan State University of Economics). He was a post graduate student of the same institute in 1994-1997, defended his candidate dissertation in 2000. He is a candidate of economic sciences.
From 1998 to 2000, he worked as senior laboratory assistant of the department "Economy of the Industry" at the Economic University (present-day "Economy of enterprse" department),  2002 – senior lecturer, associate professor of "Economy of the enterprise" chair.
Currently he is an associate professor of  "Economics and Management" chair.
*
He is the author of more than 15 scientific-methodical works.
In 2004-2009 he worked as a senior scientific worker, leading scientific worker, head of department at the Economic Reforms Scientific-Research Institute of the Ministry of Economic Development of the Republic of Azerbaijan. Since 2010, he has been working at the scientific- research institute of economic investigation of  Azerbaijan State University of Economics.
He has been a co-ordinator, group leader and expert in projects on Azerbaijan's social and development problems in 2004-2010, including projects financed by international organizations and where international experts participated.