Can. of Chemical Sciences., Associate Prof. Lezgiyev Nizami Yusub
He was born on the 21st of September in 1950   in a family of collective-farmer of Darvaz village of Bolnisi district of Georgia.
In 1957 he entered the first grade of Darvaz Secondary School and graduated from that school in 1967 with a medal.
In 1967 he entered the Chemistry faculty of Azerbaijan State University (present Baku State University). In 1972 he graduated from the same university.
In 1972-1974 he was appointed to the position of   a teacher at Almali village of Gakh region.
In 1974-1975 he worked at   Azerbaijan Polytechnic Institute as a junior scientific worker   at the department of "Analytical chemistry and chemical technology".
From 1975 to 1978 he was a full-time post graduate student of the same department.
In 1986, he defended his dissertation on the subject of "Replacement radial joint polymerization of  Vinylcyclohexyl and its derivatives with maleic anhydride" and was given the academic degree   of PhD in Chemical Sciences.
*
In 1979 he worked as a senior laboratory assistant, assistant, senior lecturer, associate professor   at the department of "Chemistry" of Ganja branch of API.
Since 2001 he has been working as an associate professor at   Azerbaijan State University of  Economics.
Currently he is   Associate Professor of the Department of Physics and Chemistry at UNEC.
He is the author of more than 60 scientific articles and theses.   His 8 manuals, textbooks have been published.
He has three children and grandchildren.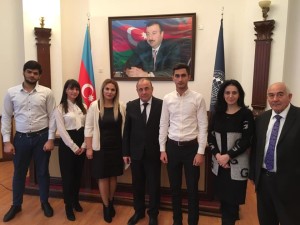 *