Vice Rector for Science and Innovation Dr. of Econ., Prof. Sakit Yagubov Mamadi
e-mail: s.yagubov@unec.edu.az
S.M. Yagubov  was born on July 01, 1953. He entered the full-time courses of the Azerbaijan Institute of People's Economy in 1969 and graduated the "Statistics" speciality of that Institute in 1973.
He worked as economist, senior economist and director of the Department "Statistics of Agriculture" of the Central Statistics Agency of Azerbaijan SSR (currently, State Statistics Committee) over 1975-1977 years.
Over 1977-1980 years, studied fulltime postgraduate courses and defended the candidacy dissertation on "Economic-statistic studying of labour productivity in cattle breeding" (Statistics speciality) at Moscow Economic-Statistics Institute in 1980.
He worked as the teacher and senior teacher at the "Statistics" department of Azerbaijan Institute of People/s Economy named after D.Bunyadzada and Baku branch of the Leningrad Finance-Economic Institute over 1980-1990 years. He studied fulltime doctorate degree at the Moscow Economic-Statistics Institute over 1990-1993 years and defended the doctorate dissertation on "Methodology for statistical assessment and analysis of development of cattle breeding in Azerbaijan" (Statistics speciality) in 1993. He is currently the only doctor of sciences in the speciality of Statistics on the Republic of Azerbaijan. He worked as the professor of the Department "Statistics" at the Azerbaijan State Economic Institute over 1994-2000 years. Since July 01, 2000, he is the director of the Statistics Department of the Azerbaijan State Economic University. Professor S.M. Yagubov was also appointed the Director of the Centre for Science and Innovation of the University in 2014.
Since February 2018, he has been Vice-Rector for Science and Innovations at UNEC.
He is the author of more than 100 scientific-methodical works, including 2 monographs, 8 textbooks and trainings aids. His more than 10 scientific articles have been published in foreign countries.
He was the member of the Council of Experts of the Higher Attestation Commission under the auspice of the President of the Republic of Azerbaijan over 2002-2004 years. He was also a member of different specialized Dissertation Defence Councils from 1994 up to now. He is the member of the "Statistic Council" under the State Statistics Committee of the Republic of Azerbaijan. Moreover, he is the member of editing staff of scientific-practical journals "Economic sciences: theory and practice", "Finance and accounting" and "Audit".
1 person defended the doctorate and 14 people candidacy dissertation under the guidance of the professor  S.M. Yagubov.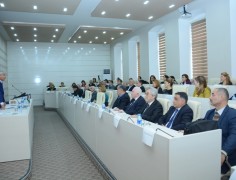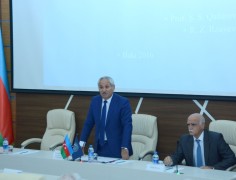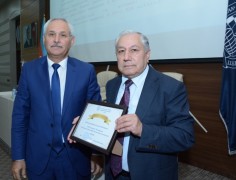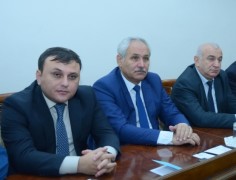 *
Pakistani reseacher at UNEC (08.12.2017)
Results of the "Science Month" discussed on Radio UNEC (30.11.2016)
The "Science Month" serves to convert UNEC into a Scientific- research Oriented University (20.10.2016)