Mobile application of the webpage unec.edu.az
The mobile-application based on the webpage is developed compactly and laconically and in a simplified way. The advantages of the mobile-application allow to use it more quickly, to save the traffic and time. The mobile applications are developed in the format of special phone. The mobile application of the webpage of Azerbaijan State University of Economics unec.edu.az has already been put into operation. Different sections are placed in mob.app in accordance with the site of the university. The mob. app of UNEC can easily been downloaded from the list of Play Market. It is comfortable and available to use it by downloading.
General appearance of the university's mob. app and structure of separate units
News and Events - The option "News and Events" is set as the first page taking into account that the news and events are the main operative piece of webpage UNEC.
As well as on the site – News are placed with photos, but the events are indicated with dates.
User is noticed about the new info by the appearance of ">n" on display. (n is the number of unread news and events).
User can immediately share the read information on Facebook, Twitter and Whatsapp or send them to other users.
Menu
The general style is developed in accordance with the site. Logo of the University of Economics is placed on the top of blue background.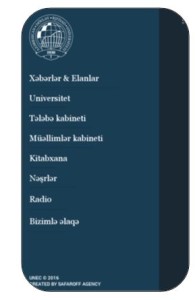 University – Information about the University.The option consists of three parts- "Today", "Awards" and "History". Relevant information on each section are placed.
Teacher's Cabinet
Student's Cabinet
It is available to enter the EDUMAN system which is frequently used by teachers and students. Thus the users are provided with the easy access to EDUMAN system.