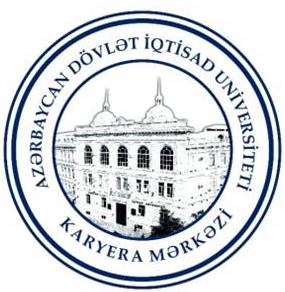 About the  Career Center
The Career Center was established on November 26, 2008. The center is a joint project of UNEC,  Ministry of Youth and Sports of the Republic of Azerbaijan and the International Labor Organization. The center has been headed by Fuad Aliyev until October 2018 and Ramil Jabbarov from 10.2018 to 10.2021. From 01.11.2021 to 08.04.2022 it was headed by Sanan Hasanov.
As a Career Center for young people, our main task is to prepare our students for professional work, support their personal development, establish close cooperation with employers and maintain healthy relationships with our graduates.
BOOKLET
ACTIVITY  DIRECTIONS  OF THE CENTER
Preparation for work life;
Improving skills;
Strengthening ties with the business world;
Relations with graduates
1. Preparation for work life
Career Coaching and Mentoring Support
Creating a Student Career Profile
Conducting simulations of job interviews
Organization of trainings in accordance with the requirements of the business world
Meetings with people differing with their success stories
Assist in the preparation of CVs, letters of recommendation and letters of request
Organization of psychological seminars before the meeting
Creating conditions for students to gain experience in the Virtual Enterprise
Evaluation   of real job proposals   by encouraging students to the portal job.unec.edu.az
Improving skills
Organization of workshops on leadership, body language, oratory, stress management, communication skills, adaptation to the work environment, time management, corporate correspondence techniques;
Organization of simulation competitions on teamwork and project management;
Involvement of students in conversation clubs on foreign languages;
Implementation of upgrade services under the UNEC2B Platform;
Strengthening ties with the business world
Holding the Career Day of the company from 5 different sectors every month;
Achieving information exchange between students and the business world by holding regular info sessions of companies;
Organization of student meetings with company management;
Organization of info-tours for students to closely follow the work process in companies;
Implementation of activities in the areas envisaged   in cooperation agreements;
Formation of "Career Book Fund" with the support of companies;
Encouraging companies to use  job.unec.edu.az portal.
Relationships with alumn
Graduates register on the platform and stay informed of upcoming notifications
Only UNEC has a variety of opportunities for its Alumni
Information on UNEC Alumni is collected and monitored
Annual UNEC Alumni Meeting is held every year
UNEC Alumni are presented with badges
Small (faculty, group) meetings of UNEC Alumni are held throughout the year
The public is constantly informed about our graduates and their career success
Business & Networking meetings are held among the graduates
"Alumni Panels" are organized where alumni and students come together
Arranging meetings of graduates with the Rector at certain times
Meetings of graduates are organized on New Year and other holidays