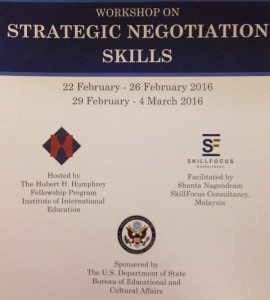 Vice-rector of Azerbaijan State University of Economics (UNEC) for International Affairs and Programs, Assistant Professor Shahin Bayramov has attended a Workshop on Strategic Negotiation Skills held in Washington, US. The main purpose of the Workshop organized by the USA State Department, Institute of International Education and Skill Focus Consultancy is to develop knowledge and skills in holding negotiations.
The training has covered the conceptions and principles of conducting negotiations, main elements and stages of the process of negotiations, the strategy and tactics of negotiations, main models and tools used in talks and other issues. Broad discussions on the features of international negotiations, required specific skills and the national identification issues important to consider have been also been discussed.
Meetings with the professional diplomats and negotiators possessing great experience in business, trade, policy and peace have been held within the 5-day event.