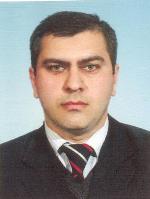 Deputy Dean of the Faculty of Engineering

Cand. of Tech. Scien., Assoc.Prof. Samadov Elchin Alasgar oglu
e-mail: elchin_samadov@unec.edu.az
He was born in 1974.
He was enrolled to the Faculty of "Commodity Research" of Azerbaijan Technological Institute in "Commodity Research of Non-Foodstuff in 1991 and graduated from Baku State Institute of Commodity Research in the same major in 1996 with honors. He became a full-time post-graduate student of the institute on the same specialty the same year and graduated from in 1999.
In 2000 he defended the Candidate's paper on "Investigation of the commodity characters of PVC linoleums and predicting their life expectation" at the Moscow University of Consumer Cooperation and became a Candidate of Technical Sciences.
He started his career after the graduation at Baku Institute of Commodity Research and Commerce first as a senior laboratory assistant, then as an instructor, senior teaching staff and Associate Professor since 2000.
*
Currently Samadov is an Associate Professor of the Department of "Commodity Research and Examination of Non-Foodstuff" and a Dean of the Faculty of "Expertise and Standardization".
He is the author of 24 scientific works, including a textbook, teaching facility, methodological instructions, articles and theses (in our Republic and abroad).
He is married, has got two children.