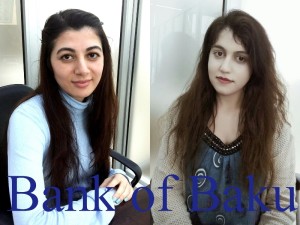 The graduate student of the Azerbaijan State University of Economics Master Center majoring in Finance Aslanova Aybeniz Khaqani and the graduate of MBA Program majoring in Management Jamalova Aydan Elkhan have been selected for the internship program on "Risks Management" offered by "Bank of Baku" OSC.
Nearly 40 undergraduate and graduate students of UNEC have taken part in the internship program.
Note: Agreement on cooperation between UNEC and "Bank of Baku" OSC has been signed on November 20 2014. The purpose of the agreement is to be able to use the potential at the disposal of the bank and to attract the university's teaching and student staffs to the bank's performance.