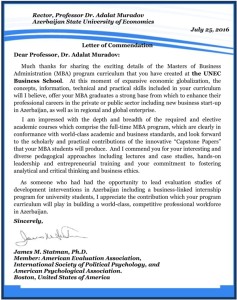 Dr James M.Statman, member of the American Evaluation Association, International Society of Political Psychology, American Psychological Association, occupying leading positions in African countries for many years has sent to the Rector of Azerbaijan State University of Economics (UNEC), Professor Adalat Muradov a letter of commendation about the curriculum of UNEC Business School's MBA Program.
Dr James M.Statman noted that the concepts, teaching materials, technical and practical skills included in the MBA Program curriculum of UNEC, would offer the graduates who complete the program to enhance their careers in the private or public sector, regional and global companies.
MBA Program's depth and breadth academic courses consistent with the world- class academic and professional standards. According to Mr.Statman, the person who has been performing and executing the assessment of development programs, notes that the MBA Program will assist in the formation of competitive workforce meeting the world standards in Azerbaijan and he congratulates UNEC therefore.